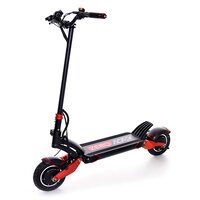 The Zero 10X 60v 21AH 2400w Twin Motor Electric Scooter The ZERO 10X a highperformance dualmotor drive dual suspension escooter that brings offroad performance into the urban environment. This scooter capable of achieving speeds of up to 65 kmh and boasts an optimum range of ;85km on a single charge. With performance that outranks ;all other escooters in its price range the 10X simply great value for money amp; a clear alternative to other ;highperformance escooters like the Dualtron. Just staring at the 10X can raise your pulse. Originally designed for offroad riding this body plan was so ;successful that the designers adapted the scooter for urban environments. Please note that the images do not accurately reflect the current braking system. Striking Suspension Arms The first thing to stand out the striking suspension arms connecting the wheels to the body. These suspension arms are propped up by twin hydraulic shock absorbers for added comfort. Front and Rear Spring Hydraulic Suspension With front and rear spring hydraulic suspension this scooter easily handles the bumpiest of roads and has fantastic handling for a stable ride. Front and Rear Full Hydraulic Disc Brakes The front and rear hydraulic disc brakes provide great stopping power tackling the toughest conditions. Lightweight and Foldable Weighing in at just 35kg the scooter also foldable for easy storage and transportation. 1200w Dual Motors Both wheels have hub motors that are rider selectable from single to dual drive. These provide a nominal total power output of 2400w and a peak power output of 3600w. The 3600w power output powered by 2 x 25A speed controllers with massive heat sinks to dissipate heat as efficiently as possible maintaining the optimal performance of the escooter at all times. LG Lithium Battery Includes a highly soughtafter LG lithium battery which of superior quality to generic lithium cells and provides approximately 10 extra in regards to the rangebattery life and number of life cycles. LCD Intelligent Display Display includes a battery indicator speedometer gear setting trip mileage ODO lifetime mileage light control voltage level electrical current level error codes. Eco and Turbo Mode Allowing the rider to switch between 2 modes; ECO mode and TURBO mode the rider can extend the range of the scooter by up to 3X in Eco mode compared to the dualmotor Turbo mode. 10 Inch Tyres The high grade 10 inch tyres provide better grip and deliver a controlled ride over rough terrain. Main features: Power: 60 Volts Controller: 25A x 2 Max load: 120kg Max speed: 65 kmh Max mileage: 7585 km ;dependant on rider weight terrain and hows its ridden Charge time: 9 hours Weight: 35kg Folded size: 130x75x60cm Assembled size: TBA Support We offer a full support service with FREE lifetime telephone technical advice and stock standard amp; performance parts. Servicing amp; Maintenance checks are also available Call for details. Assembly As standard this model requires partial assembly. Approx. 20 minutes. Warranty Standard 2 Year Manufacturing Defect Warranty. Unless otherwise stated this product not designed for Motocross Mini or BMX tracks and such use will invalidate the warranty. Limitations ndash; Misuse and water ingress. Incorrect assembly maintenance or parts installation including collision damage will invalidate the warranty. Commercial use prohibited. Advice A mechanically able person will be required to carry out the assembly and longterm maintenance of this product. Maintenance will be required to service the bike and fit parts to this product as usage requires. Please consider these requirements before purchasing the item. We do offer a FREE support line where our mechanics will diagnose problems and help you source any required parts but you will be required to fit those parts and assist in the diagnosis. ; Disclaimer: FunBikes unable to give advice on the law. Please speak to your local authorities for more information. Unless otherwise specified the products you are purchasing are not currently legal to ride in the UK. It the riderrsquo;s responsibility and full liability to ensure laws are respected and the correct safety equipment used. Age Suitability to be used as a guide only with responsibility for use solely at the discretion of parents or guardians..
Best price: Zero 10X 60v 21AH 2400w Twin Motor Electric Scooter
Merchant:
Category merchant: Electric Scooters

Price:
from
Fun Bikes
Brand :
Related Products

Best price:
- Kaabo Wolf 2 2400w 60v 35AH Twin Motor Off Road Electric Scooter,
- Chaos Freeride 2400w Two Wheel Drive Twin Motor Adult Electric Scooter
Merchant : .
Merchant Category: .
Brand : .
Compare prices and save time and money !!!



Online Stores | Terms & Cs | Policy cookies
Progect by F.T. Informatica Service di Francesco Tamburrino P.Iva 01757500762