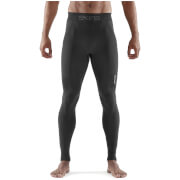 SKINS DNAmic BASE Long Tights is a light compression solution for training sessions on the sports field or on the slopes. Designed to be worn as a base layer beneath your gear for added muscular protection, the semi-seamless construction maximises freedom of movement, wherever your active life takes you. DNAmic GRADIENT COMPRESSION SKINS most advanced compression technology increases muscle oxygenation, stabilises active muscles and reduces blood lactate build up, to enhance performance and speed up recovery time. MOISTURE MANAGEMENT Moisture wicking fabric draws sweat away from the body to the surface of the garment where it evaporates to keep you dry. SKIN FIT SKINS unique sizing system is based on our unique Body Mass Index (BMI)/anthropometrical algorithm, because you only get the full benefits of gradient compression if your SKINS fits you properly. SEMI-SEAMLESS CONSTRUCTION Minimal seaming for extra comfort, ideal for layering Fibre Content: 80% POLYAMIDE, 20% ELASTANE.
Best price: Skins DNAmic Base Long Tights - Black - XL - Black
Merchant:
Category merchant: Sports Trousers

Price:
from
ProBikeKit
Brand : Skins
Related Products

Best price:
- Skins Women's DNAmic Base 7/8 Tights - Black - L - Black,
- Skins DNAmic Long Half Tights - Black - XL - Black
Merchant : .
Merchant Category: .
Brand : .
Compare prices and save time and money !!!



Terms & Cs | Policy cookies
Progect by Media Prices s.r.l.s. (N. Rea PZ - 148401 - P.Iva 01975890763)