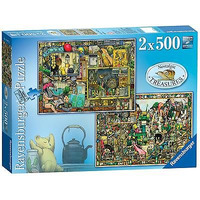 Most of us have a special cupboard, drawer or box where we hide away forgotten treasures. They might be damaged or very old, but they are just so precious that we can't dispose of them. Artist Colin Thompson has taken this idea and developed it in his own special way ... and the results can be found on these 2 richly detailed and fascinating puzzles. Dip into each scene and prepare to be amused, entertained and hopefully delighted!.
Best price: Ravensburger Colin Thompson - Nostalgic Treasures Jigsaw Puzzle (2 x 500 Pieces)
Merchant:
Category merchant: Jigsaw Puzzles

Price:
from
Duncans Toys
Brand : Ravensburger
Related Products

Best price:
- Ravensburger Colin Thompson - Bookshelf 18,000pc Jigsaw Puzzle,
- Ravensburger Colin Thompson - Awesome Alphabet A, 1000pc Jigsaw Puzzle
Merchant : .
Merchant Category: .
Brand : .
Compare prices and save time and money !!!



Online Stores | Terms & Cs | Policy cookies
Progect by F.T. Informatica Service di Francesco Tamburrino P.Iva 01757500762