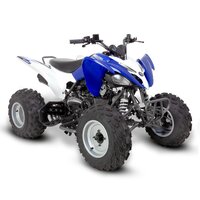 Pentora 150cc Quad Bike Get ready to grab the bull by the horns or should we say quad by the handlebars Introducing the Pentora 150cc quad bike in blue this beast will get you noticed on the track and will leave everybody envious of both you and your quad. This vehicle supplied ldquo;Ready to Riderdquo; with ;free assembly. ;We will assemble test amp; perform a full predelivery inspection of this vehicle before dispatch. Your vehicle will be delivered securely strapped to a pallet and protected via a reputable pallet network courier. While we endeavour to ensure products on our website accurately match the real world product you receive due to several factors the hue andor shade may differ slightly from what pictured. New images will be updated shortly. Just for reference we find this most commonly purchased for children aged 1316 years. The suitability of the product to a particular child at the Parents Discretion ndash; Height Weight amp; Skill should also be considered. ;So suitable for junior riders and big kids yes wersquo;re talking about you dad this quad will make the competition a blur in the background. With automatic drive both forward and in reverse this beauty has an impressive 150cc 4 stroke single cylinder petrol engine this isnrsquo;t a quad which requires you to be gentle with. This one packs a bit more of a punch than our smaller models so make sure you can handle this speed machine. Other features include: bull; ; ; ;Wide track front endbull; ; ; ;Automatic gearsbull; ; ; ;Mono shock rear suspensionbull; ; ; ;Aggressive offroad tyresbull; ; ; ;Triple brake system This full offroad quad screaming out to be taken for a ride where will you take it ; Support We offer a full support service with FREE lifetime telephone technical advice and stock standard amp; performance parts. Servicing amp; Maintenance checks are also available Call for details. Assembly This model comes with FREE full assembly and Pre Delivery Inspection. ; Warranty Standard 6 Month Manufacturing Defect Warranty Excludes Consumable Items. Unless otherwise stated this product not designed for Motocross Mini or BMX tracks and such use will invalidate the warranty. Limitations ndash; Misuse. Incorrect assembly maintenance or parts installation including collision damage will invalidate the warranty. Commercial use prohibited. Advice A mechanically able person will be required to carry out the assembly and longterm maintenance of this product. Maintenance will be required to service the bike and fit parts to this product as usage requires. Please consider these requirements before purchasing the item. We do offer a FREE support line where our mechanics will diagnose problems and help you source any required parts but you will be required to fit those parts and assist in the diagnosis. ;.
Best price: Pentora 150cc Blue Young Adult Quad Bike
Merchant:
Category merchant: Cars motorcycles quad bikes

Price:
from
Fun Bikes
Brand :
Related Products

Best price:
- Pentora Sports 250cc Blue Young Adult Quad Bike,
- SMC Cub 50cc Petrol Blue Kids Quad Bike
Merchant : .
Merchant Category: .
Brand : .
Compare prices and save time and money !!!



Online Stores | Terms & Cs | Policy cookies
Progect by F.T. Informatica Service di Francesco Tamburrino P.Iva 01757500762