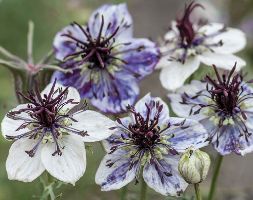 Position: full sun Soil: moderately fertile, well-drained soil Rate of growth: average Flowering period: July to September Hardiness: hardy annual A beautiful annual with variably splashed and mottled silver-grey and blue petals, which form a disc-like base for the prominent plum-purple stamens. The flowers are excellent for cutting and after they have faded they produce decorative seedheads, which look great in dried arrangements. Grown in individual plug cells, each plant measures about 5 - 7cm tall (from the base of the root to the top of the plant). They are ideal for keen gardeners who have a greenhouse where the plants can be grown on until they are ready for planting out in the garden once all chance of frost has passed. Please note that as we grow these for especially for you, we need to take full payment when you place your order so as to reserve stock for you. See above for despatch dates for this particular plant. To ensure that your plants arrive in the best possible condition each pack will be despatched individually. Our Plug Plants - Four sizes are available - Click for information about sizes.
Best price: Nigella papillosa 'Delft Blue' (40 plus 20 FREE large plug plants)
Merchant:
Category merchant: Home and garden

Price:
from
Crocus
Brand :
Related Products

Best price:
- Nigella hispanica (40 plus 20 FREE large plug plants),
- Ammi majus (40 plus 20 FREE large plug plants)
Merchant : .
Merchant Category: .
Brand : .
Compare prices and save time and money !!!



Online Stores | Terms & Cs | Policy cookies
Progect by F.T. Informatica Service di Francesco Tamburrino P.Iva 01757500762