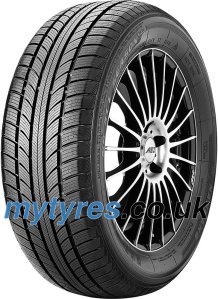 The central blocks with 3D kerf enhance manoeuvrability on a snowy road. Four circumferential- groove raises drainage efficiency and stability on the wet road. The multi-pitch arrangement reduces rolling noise effectively. The large blocks on shoulders increase sustaining strength, escalate corning handing stability and treadwear. No matter in summer or in winter, N-607+ all season tyres provide drivers manoeuvrability and safety all year round..
Best price: Nankang All Season Plus N-607+ ( 215/60 R16 95V )
Merchant:
Category merchant: Cars motorcycles tires

Price:
from
Mytyres
Brand : Nankang
Related Products

Best price:
- Nankang All Season ( 175/55 R15 77H ),
- Nankang All Season Plus N-607+ ( 135/80 R13 70T )
Merchant : .
Merchant Category: .
Brand : .
Compare prices and save time and money !!!



Online Stores | Terms & Cs | Policy cookies
Progect by F.T. Informatica Service di Francesco Tamburrino P.Iva 01757500762