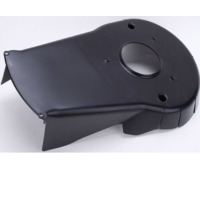 This is a genuine Mountfield belt guard p/n 322060222/0 Suitable for the following models; Collector 46S 299264624/ST9 Collector 53S B 23-5281-07 Collector 53S Combi 23-5337-17 Collector 53SE 23-5338-17 Combi 46S 299274644/ST9 Combi 46S B 299274621/ST9, 299274624/ST9 Combi 46S Ethanol 299294644/ST9 Combi 46S H 299274634/ST9, 299274638/ST9 Combi 46SE 299324644/ST9 Combi 53S B 299275344/ST9, 299275324/ST9 SP534 299265348/BQ SP534 ES 299325348/BQ SP536 2013 SP536 ES299325448/BQ If you are unsure whether this is the correct part for your machine, please fill out our online parts enquiry form here. The technical department will then respond to confirm whether or not it is the correct part for your machine..
Best price: Mountfield Belt Guard fits SP534, SP536 etc p/n 322060222/0
Merchant:
Category merchant: Lawn Care Garden Care gt Lawnmower Spares gt Lawnmower Parts gt

Price:
from
Mowers Online
Brand : Mountfield
Related Products

Best price:
- Mountfield - Castel Belt Z30 fits SP536, SP534, T484TR p/n 135064100/0,
- Mountfield Clutch Cable fits SP474,SP536, SP534 p/n 381000659/0
Merchant : .
Merchant Category: .
Brand : .
Compare prices and save time and money !!!



Terms & Cs | Policy cookies
Progect by Media Prices s.r.l.s. (N. Rea PZ - 148401 - P.Iva 01975890763)