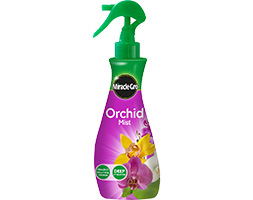 Creates ideal growing conditions Rich source of nutrients Ready-to-use spray Miracle-Gro Orchid Mist is a ready-to-use spray that helps create the humid cond itions indoor orchids love. A regular spray to leaves, roots and soil forms an i ntense hydration layer around the plant to boost vitality. Designed for use alongside regular feeding and watering, it also contains a uniq ue mix of nutrients to stimulate healthy growth and encourage flowering. For best results, use the mist between February and June. When orchids are activ ely growing, spray 1-2 times a week, reducing to once every 2-3 weeks during the orchid's resting phase. Take care to avoid spraying open flowers..
Best price: Miracle gro orchid mist
Merchant:
Category merchant: Home and garden

Price:
from
Crocus
Brand :
Related Products

Best price:
- Phalaenopsis 'Blush Pink Willd Orchid' (moth orchid),
- Phalaenopsis 'Pink Willd Orchid' (moth orchid)
Merchant : .
Merchant Category: .
Brand : .
Compare prices and save time and money !!!



Online Stores | Terms & Cs | Policy cookies
Progect by F.T. Informatica Service di Francesco Tamburrino P.Iva 01757500762