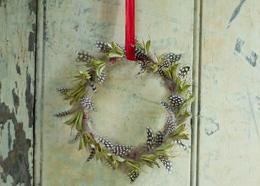 Handmade by the Crocus team A light but intricate little wreath to hang on a door, in a window, on a wall or over a mantelpiece, this makes full use of the architectural structure of the remarkable Nigella orientalis seed pods, whose flared shape is ribbed, each rib extending to a fine point to emphasise its elegance still further. Its graphic and dramatic equal, the guinea fowl feather, polka dotted like a chi ld's drawing of a snow-filled sky, teams with the hand-dyed scarlet ribbon to br ing Christmas irrepressibly to the mix. Outside or inside this wreath will weather naturally, the seed pods turning fro m greeny-yellow to parchment, but will easily last for the festive season. If carefully stored in tissue paper it should last for two or three years, still b eautiful, with an antique hue. Measurements (approx): Diameter 7 (17.8cm).
Best price: Guinea fowl and nigella seed head ring
Merchant:
Category merchant: Home and garden

Price:
from
Crocus
Brand :
Related Products

Best price:
- Poppy seed head and guinea fowl feather wreath,
- Ring pull seed feeder
Merchant : .
Merchant Category: .
Brand : .
Compare prices and save time and money !!!



Online Stores | Terms & Cs | Policy cookies
Progect by F.T. Informatica Service di Francesco Tamburrino P.Iva 01757500762