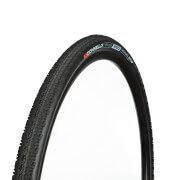 Der X'Plor MSO ist ein schlauchloser Abenteuerreifen für die anspruchsvollsten Abenteuer. Die Kombination aus leichtgängigen Mittelknöpfen und aggressiven Schulterstollen bietet hervorragende Traktion und Langlebigkeit auf Schotterstraßen, Trails, im Stadtverkehr und sogar auf Straßenbelägen. Der MSO-Reifen ist nach dem Flughafencode von Missoula, Montana, benannt, dem Sitz der Adventure Cycling Association. Die X'Plor Adventure-Reifenserie von Donnelly wurde entwickelt, um die Lücke zwischen Asphalt und dem eigenen Trail zu schließen. Jeder Reifen dieser Serie ist für verschiedene Bedingungen ausgelegt, von Offroad-Touren über Schotterrennen bis hin zum Ausweichen. Produktmerkmale: Leichtgängige Mittelknöpfe und aggressive Schulterstollen. Weiche Gummimischung für zusätzlichen Grip und Stoßdämpfung. Integrierter Pannenschutzgürtel unter der Lauffläche. Dies ist ein schlauchloser Reifen, der jedoch mit einem Schlauch verwendet werden kann. Größe: 650 x 42, 50 mm 700 x 32, 36, 40, 50 mm.
Best price: Donnelly X'Plor MSO SC Tubeless Clincher Adventure Tyre - 700x35c - Black/Black
Merchant:
Category merchant: Bicycle Tyres

Price:
from
ProBikeKit
Brand : Donnelly
Related Products

Best price:
- Donnelly EMP SC Tubeless Clincher Adventure Tyre - 700c x 38mm,
- Donnelly Strada USH SC Tubeless Clincher Adventure Tyre - 700X23C - Black/Black
Merchant : .
Merchant Category: .
Brand : .
Compare prices and save time and money !!!



Online Stores | Terms & Cs | Policy cookies
Progect by F.T. Informatica Service di Francesco Tamburrino P.Iva 01757500762