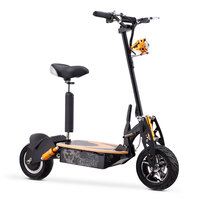 Chaos 48v 1600w Big Wheel Hub Drive Adult Electric Scooter Distinguished ;by supersize alloys sports design wooden deck and sport race tyres the Chaos 1600W Electric ;Scooter will take you at speeds of up to 40KMH and has the highest top speed of all the electric scooters other than the Chaos 2400w dualmotor model. Designed and manufactured using state of the art techniques making them superior to all others on the market. Loaded with innovative features ensuring their high quality shines through. ;The onetouch fold away system makes this scooter ;easy to store. ; This rangetopping 48volt performance Scooter holds four batteries totalling 1600W giving you plenty of power. Not only that but the motor also upgraded to a ;HUB MOTOR ;which ;offers far superior performance compared to chain drive. The acceleration almost instant Chaos specialises in high power electric powerboards. ; Features: Power: 1600W HUB DIRECT DRIVE MOTOR Length 44 x Height 42 Driving system: Chainless Handlebar: Motocross style Max load: 120kg Battery: 12AH 48V Life of battery: Over 250 cycles Charger: 100V240V Top speed: 40kmh Maximum range: 20km 6 Wheels Brake: Frontrear disc Weight: 46kg Boxed Dimensions: L119cm x W32cm x H46cm ; Support We offer a full support service with FREE lifetime telephone technical advice and stock standard amp; performance parts. Servicing amp; Maintenance checks are also available Call for details. Assembly As standard this model requires partial assembly. Approx. 60 minutes. Please see our example assembly videos for more information. Warranty Standard 6 Month Manufacturing Defect Warranty. Unless otherwise stated this product not designed for Motocross Mini or BMX tracks and such use will invalidate the warranty. Limitations ndash; Misuse and water ingress. Incorrect assembly maintenance or parts installation including collision damage will invalidate the warranty. Commercial use prohibited. Advice A mechanically able person will be required to carry out the assembly and longterm maintenance of this product. Maintenance will be required to service the bike and fit parts to this product as usage requires. Please consider these requirements before purchasing the item. We do offer a FREE support line where our mechanics will diagnose problems and help you source any required parts but you will be required to fit those parts and assist in the diagnosis. ; Disclaimer: FunBikes unable to give advice on the law. Please speak to your local authorities for more information. Unless otherwise specified the products you are purchasing are not currently legal to ride in the UK. It the riderrsquo;s responsibility and full liability to ensure laws are respected and the correct safety equipment used. Age Suitability to be used as a guide only with responsibility for use solely at the discretion of parents or guardians..
Best price: Chaos 48v 1600w Hub Drive Adult Electric Scooter
Merchant:
Category merchant: Electric Scooters

Price:
from
Fun Bikes
Brand :
Related Products

Best price:
- Chaos 48v 1600w Hub Drive Off Road Adult Electric Scooter,
- Chaos 48v 1600w Big Wheel Adult Electric Scooter
Merchant : .
Merchant Category: .
Brand : .
Compare prices and save time and money !!!



Online Stores | Terms & Cs | Policy cookies
Progect by F.T. Informatica Service di Francesco Tamburrino P.Iva 01757500762