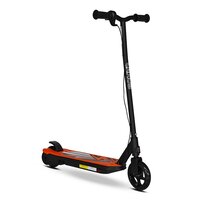 Chaos Kids 30W Orange Electric Scooter Scootering fun with this awesome Kids Electric Scooter. Whizzing along with speeds of up to 12kmph 8mph and enjoying a longer ride time than similar childrens scooters with an optimum run time of 60 minutes your kids will have so much fun zooming around on this great new junior electric scooter. The 30w motor connects to the rearwheel with a ;maintenancefree belt ;drive system and it powered by a 12v lead acid battery while the twist n go thumb throttle 140mm PU wheels and foot brake offer simplistic control. The scooter also has a brilliant automatic motor cut out feature so when the foot brake pedal pressed it cuts all the power going to the motor bringing the scooter to a steady stop. However if this the case or if the battery low it can also be used as a kick scooter meaning the fun never stops A steel frame and retractable kickstand mean you can also leave it propped up when not in use. ;The scooter handlebar stem can also be removed for easy transportation or storage. Suitable for ages 6 or younger at parents discretion. Features 2 wheels. Antislip footplate. Easy grip handles. Size L72cm x W32.5cm x H82cm. Weight 8kg. Maximum user weight: 50kg. Minimal assembly. Batteries required: 1 x rechargeable included. For ages 6 years and over. ; Support We offer a full support service with FREE lifetime telephone technical advice and stock standard parts. Servicing amp; Maintenance checks are also available Call for details. Assembly As standard this model requires partial assembly. Approx. 10 minutes. Warranty Standard 6 Month Manufacturing Defect Warranty. Unless otherwise stated this product not designed for Motocross Mini or BMX tracks and such use will invalidate the warranty. Limitations ndash; Misuse and water ingress. Incorrect assembly maintenance or parts installation including collision damage will invalidate the warranty. Commercial use prohibited. Advice A mechanically able person will be required to carry out the assembly and longterm maintenance of this product. Maintenance will be required to service the bike and fit parts to this product as usage requires. Please consider these requirements before purchasing the item. We do offer a FREE support line where our mechanics will diagnose problems and help you source any required parts but you will be required to fit those parts and assist in the diagnosis. ; Disclaimer: FunBikes unable to give advice on the law. Please speak to your local authorities for more information. Unless otherwise specified the products you are purchasing are not currently legal to ride in the UK. It the riderrsquo;s responsibility and full liability to ensure laws are respected and the correct safety equipment used. Age Suitability to be used as a guide only with responsibility for use solely at the discretion of parents or guardians..
Best price: Chaos 12v 30w Orange Kids Electric Scooter
Merchant:
Category merchant: Electric Scooters

Price:
from
Fun Bikes
Brand :
Related Products

Best price:
- Chaos 12v 30w Black Kids Electric Scooter,
- Chaos 12v 30w Blue Kids Electric Scooter
Merchant : .
Merchant Category: .
Brand : .
Compare prices and save time and money !!!



Online Stores | Terms & Cs | Policy cookies
Progect by F.T. Informatica Service di Francesco Tamburrino P.Iva 01757500762