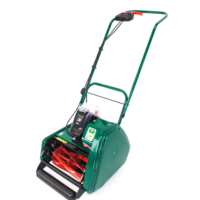 The Allett Liberty 30 is the 12″ push entry level mower in the innovative Liberty Range, designed for smaller to medium lawns.Equipped with a 5-bladed cutting cylinder that delivers 88 cuts per metre.It has five pre-set cutting heights ranging from ¼inch "" 1 ¼ inch (6mm-32mm) to choose from to help you to achieve your desired length & with a steel rear roller you'll get a desirable stripped finish, everytime.Powered by a 40V Lithium Ion Greenworks Batterythat will provide approx. 40 minutes cutting time, covering roughly 600m2 on just one charge. Enjoy a greener & quieter mowing solution from a premium brand.Includes Battery & Charger. Area/Time per full battery charge Approx 600m2 or 40 mins mowing timeCuts per MetreVariableCutting SystemCylinderCutting Width12" (305mm, 30cm)Front RollerPolyetheleneGrassboxPolypropylene 32 litresHandlebars2 Height Positions Plus Folding- Wing NutHeight of CutDial 1-5 Plus S for Scarifying - 6-32mmMethod of StartingPush Button StartMotor410W @10A- 40V 4Ah (Removable Battery)Number of Blades5 Blade Carbon SteelOperator Noise Level86dBOverall Width48cm (19")Quick Cartridges (QC) availableScarifierRakeNoRear RollerSteel Rolled EdgesSelf PropelledNoSpeed ControlsSpeeds 1-6 adjustableTime to change a cartridgeApprox 3 minsTime to charge a batteryApprox 1hr45Weight (not including battery) 23kg.
Best price: Allett Liberty 30 12" Cordless Push Mower with 40v 4ah Battery & Charger
Merchant:
Category merchant: Garden amp Outdoors gt Garden Machinery

Price:
from
Housemakers
Brand : Allett
Related Products

Best price:
- Allett Liberty 35 14" Cordless Self Propelled Mower with 40v 4ah Battery & Charger,
- Allett Liberty 43 17" Cordless Self Propelled Mower with 40v 4ah Battery & Charger
Merchant : .
Merchant Category: .
Brand : .
Compare prices and save time and money !!!



Terms & Cs | Policy cookies
Progect by Media Prices s.r.l.s. (N. Rea PZ - 148401 - P.Iva 01975890763)