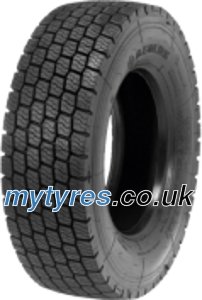 Specially designed rubber compound for good grip on all wintry roads New compound technology for outstanding rolling resistance, mileage performance and fuel consumption Extensive siping of the tread bars results in traction, grip and excellent braking performance Special sipes result in improved wear behaviour and prevent cracking.
Best price: Aeolus ADW80 ( 295/80 R22.5 152/148M )
Merchant:
Category merchant: Truck Tyres

Price:
from
Mytyres
Brand : Aeolus
Related Products

Best price:
- Aeolus ADW80 ( 315/80 R22.5 154/151M 18PR Dual Branding 156/150L ),
- Aeolus HN 08 ( 8.25 R20 136K )
Merchant : .
Merchant Category: .
Brand : .
Compare prices and save time and money !!!



Online Stores | Terms & Cs | Policy cookies
Progect by F.T. Informatica Service di Francesco Tamburrino P.Iva 01757500762