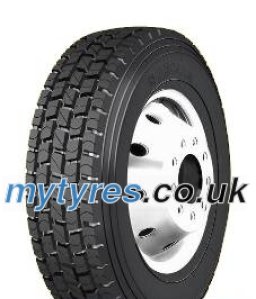 ADR35: For drive axles on light trucks Drive axle tyres have undergone further development especially for use on light trucks. The ADR35 provides the smaller, financially relevant 17.5-inch versions with the available sizes. Because of its incisive, four-row profile design with a strong shoulder area, the HN366+ is suitable for daily regional use on vehicles using 19.5-inch tyres. Other options include improved performance compared with the predecessor model, along with greater damage resistance. And last but not least, the M+S label shows all tyres are appropriate for winter weather conditions. Safety thanks to the extra-wide tread design Shorter braking distances thanks to a large ground contact area Five-row tread profiling for an even wear pattern. Optimised adhesion under almost all weather conditions.
Best price: Aeolus ADR35 ( 245/70 R17.5 136/134M )
Merchant:
Category merchant: Truck Tyres

Price:
from
Mytyres
Brand : Aeolus
Related Products

Best price:
- Aeolus ADR35 ( 205/75 R17.5 124/122M ),
- Aeolus ADR35 ( 215/75 R17.5 127/124M )
Merchant : .
Merchant Category: .
Brand : .
Compare prices and save time and money !!!



Online Stores | Terms & Cs | Policy cookies
Progect by F.T. Informatica Service di Francesco Tamburrino P.Iva 01757500762