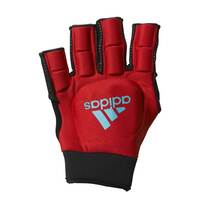 Plastic shields for impact and abrasion protection A second hard shell for additional finger protection Ultra slim profile Open palm for perfect grip and natural feel Adjustable velcro strap for perfect fit.
Best price: Adidas Hockey OD Glove 2017 Red #Large
Merchant:
Category merchant: Sports Outdoors Bicycle gloves

Price:
from
Hockey Factory Shop
Brand :
Related Products

Best price:
- Adidas Hockey OD Glove 2017 Aqua #Medium,
- TK Total Three AGX 3.5 Glove Black 2017 #Large
Merchant : .
Merchant Category: .
Brand : .
Compare prices and save time and money !!!



Online Stores | Terms & Cs | Policy cookies
Progect by F.T. Informatica Service di Francesco Tamburrino P.Iva 01757500762