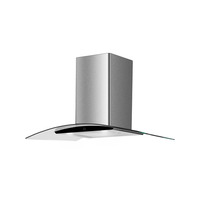 A Full Curve Of Style And Practicality The elegant full curved stainless steel and clear glass finish gives this 90cm curved glass cooker hood its stylish touch. This designer curved glass hood offers a fantastic performance as well as style and it is best suited to a medium sized kitchen. The nine fan speeds can be controlled using the touch control panel at the front. This is also where you can switch on the LED downlights, which will nicely illuminate your cooking area, giving your kitchen the perfect mood lighting if you are entertaining. The aluminium grease filter can easily be removed and we recommend that you take it off every 2 to 3 weeks to clean. This can be done by soaking in a sink full of soapy water or in popped in the dishwasher. This hood can either be vented to the outside or can be recirculated. If you wish to vent to the outside you will need to purchase a ducting kit ART00823 If you want to recirculate the air, then you will need to purchase these carbon filters TMFILT7 Please Note Please check the dimensions before you purchase. Items that do not meet your measurements must be returned at your own cost..
Best price: ART28216 90CM CURVED GLASS COOKER HOOD
Merchant:
Category merchant: Cooker Hoods

Price:
from
MyAppliances
Brand :
Related Products

Best price:
- ART28380 90CM CURVED GLASS LED COOKER HOOD,
- ART28374 90CM BLACK CURVED GLASS COOKER HOOD
Merchant : .
Merchant Category: .
Brand : .
Compare prices and save time and money !!!



Online Stores | Terms & Cs | Policy cookies
Progect by F.T. Informatica Service di Francesco Tamburrino P.Iva 01757500762